Affiliate Disclaimer: This page may contain affiliate links.  As an Amazon Associate, we earn from qualifying purchases. We may also earn commissions if you purchase products from other retailers after clicking on a link from our site.
Siding is one of the few things that can transform your home from bland to exquisite. Whether building a new house or remodeling your old one, the siding is critical to your home's final appearance. Luckily, you have many siding options, from basic and classic to bold and contemporary.
You can make your siding look better by mixing, matching, and blending different colors and textures. A contrasting trim will also highlight the siding while changing the direction of the panels creates visual interest. Additionally, windows enhance the aesthetic appeal of the home.
Choosing the best siding for your house can be complicated. With numerous styles, materials, and colors available, narrowing your choices can be exhausting. To help you make a decision, here is a list of things to help make your siding look better.
1. Use Color To Make a Statement
Your choice of siding color can make a big difference and have a lasting impact on passersby, neighbors, and guests. It offers insight into your architectural preferences and personal style. Below are some ways you can use color to make a statement:
Opt for classic color schemes. Choose a timeless color scheme that compliments the architectural features you don't want to change. Neutral hues are an excellent choice because they add sophistication, elegance, and style to your siding. Go for a soft yellow, white, warm beige, or other similar tones to create an inviting mood.
Go for bold accents. Bold, eye-catching accents blend well with neutral color schemes to add personality to your siding and break the monotony. You can use conspicuous stylish accents, but do it in moderation to avoid creating an exaggerated look. Go for a stunning, complimentary color for the door and a similar shade for the windows to create an elegant and harmonious contrast.
Use contrasting colors. No rule says you must cover your siding in one solid color. While subtle colors have been the trend for years, you can opt for dynamic colors and blends to make your style statement. You can mix lap siding in a natural stain with contrasting trim for a modern edge.
Try unique or saturated colors. You don't have to consider siding colors as forever neutral, such as brown, gray, or white. You can boost your home's curb appeal with two-tone colors, such as summit blue and other hues of blue. A saturated color trimmed with white will pop and make a big statement.
Consider monochromatic siding. A mix of gray, white, and black will create a monochromatic appearance that's beautiful to look at.
Use two shades of the same color. Play around with siding and trim by choosing a popular color and pairing it with a trim of the same color but in a deeper tone. Varying the shades will create an impressive color combination that will make your siding stand out.
Make subtle changes. Only use a single color if you want to achieve an understated look but want to change the size or shape of the siding.
Consider shingles. Contemporary homes sometimes need some texture to revitalize them. You can do this by matching the texture of natural fieldstone with irregular shingles; the decorative shingles can have a similar color to the lap siding.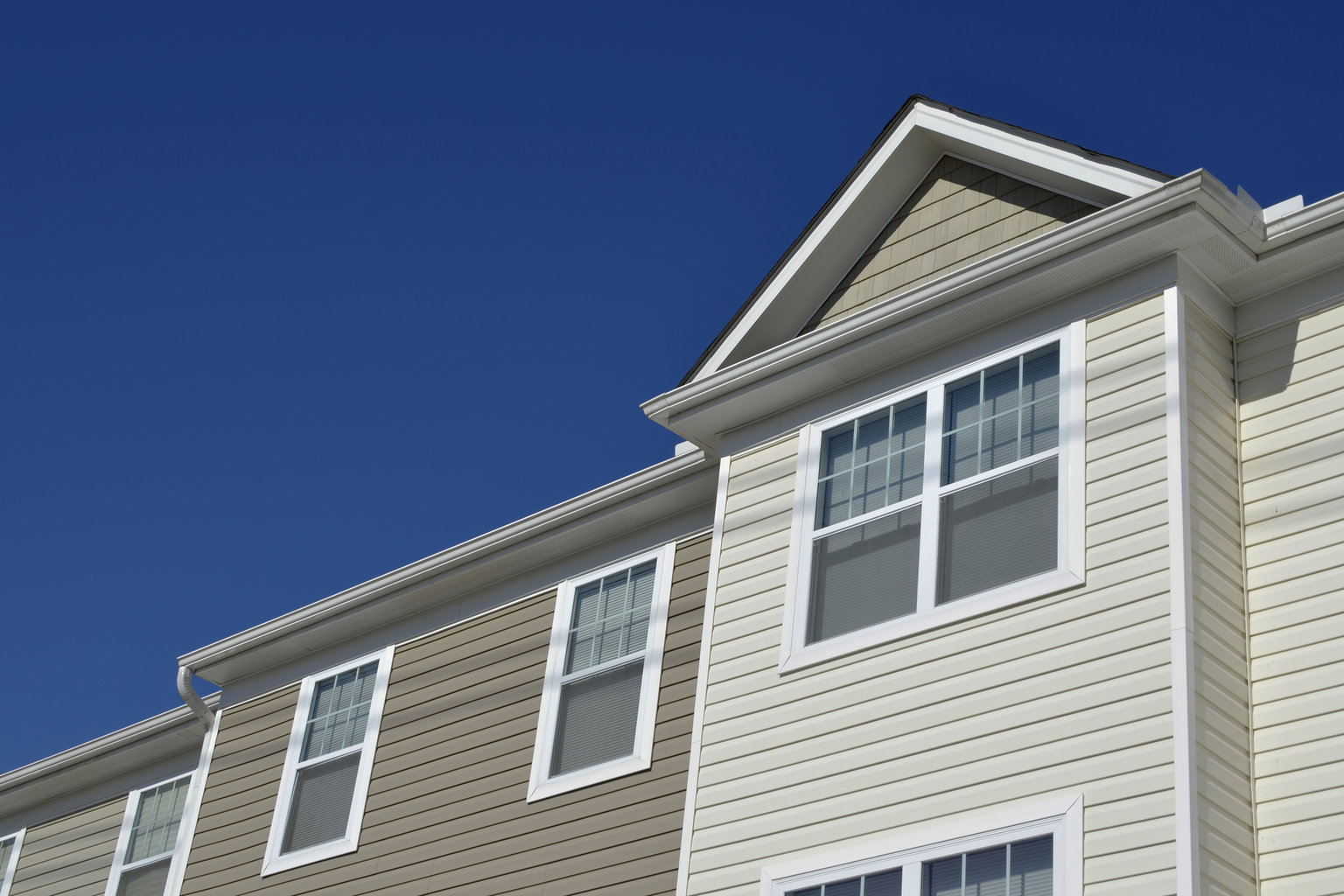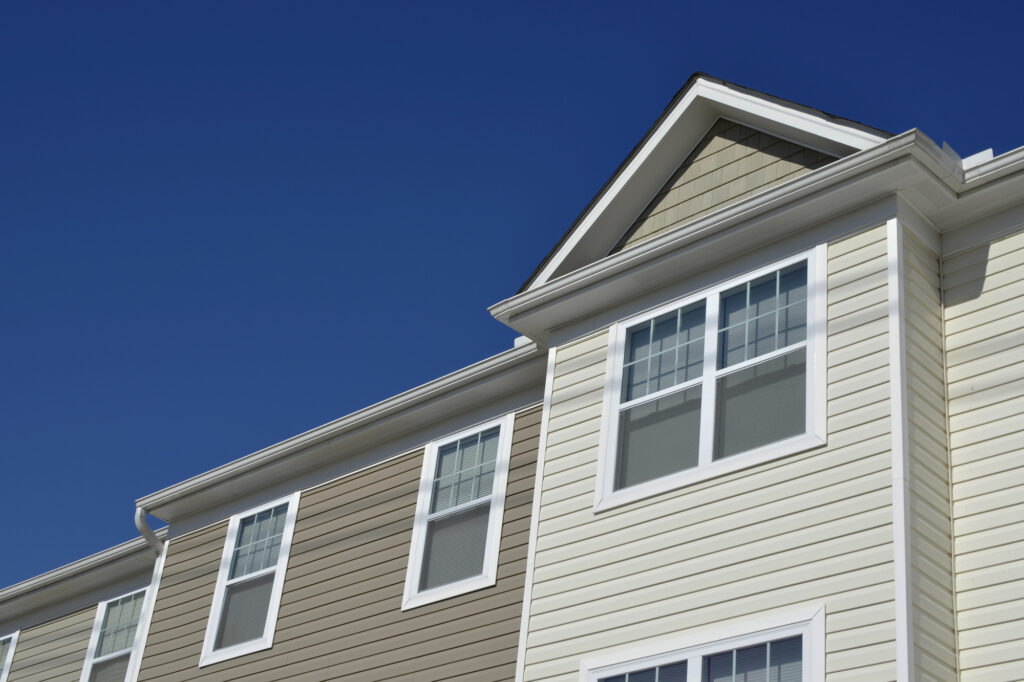 2. Maximize the Use of Trim
There are different ways you can use trim to improve your siding's appearance, create an eye-catching contrast, and highlight the architectural features of your siding.
Use a prominent color. The trim can give life to your siding, but using the same color for your siding and trim doesn't sound exciting. To make things interesting, go for a bold white trim to make your siding stand out and give it a new, polished look.
Use a bright trim on dark siding. You don't need a bold color for your siding to make it impressive, as any dark-colored siding will stand out when paired with white trim around doors and windows. White pairs perfectly with most colors and creates a neat, timeless appeal to the siding.
Choose a lighter or darker trim. Choose a window trim that's the same color as your siding but in a lighter or darker shade. For example, if the siding is dark, you can choose a lighter shade for the trim or an even darker shade than your siding color.
Go neutral. You can opt for neutral shades, such as gray, tan, or beige, to match your siding if you don't like colored trim. Neutral colors work very well, especially in traditional-style houses, where colored window trim might look out of place.
Create an exciting contrast. If you want to make a bold statement, pick a window trim color from one side of the color wheel and siding colors from the opposite side of the spectrum. For example, yellow trim on blue siding will create a beautiful contrast.
3. Highlight Siding With Different Textures
There are many textures and siding materials, but mixing different siding textures can create a bold and unique aesthetic.
Here are some ways to mix textures to give your siding a fresh look:
Limit the number of textures. Two are safe to use, but you can pick three for further customization. Mix a rugged surface with a smooth one on the siding, and ensure you choose a texture that can fit the trim if you go with three textures.
Consider the placement. Place unique or mixed textures to highlight architectural features such as gables, dormers, gutters, or windows. Creating such focal points will elevate and reinforce your siding's design aesthetic and character, so choose rough textures for the base or the first level and a smoother one for the upper parts.
Go with contrasting textures. Pair your smooth siding with stone and rough brick to give it a sleek look. Board and batten siding will add more visual interest and volume to your siding even if you paint it the same color. You may also want to use vinyl siding with a touch of brick or stone around the entry to create an elegant look.
Stick to timeless trends. While trendy textures will add personality to your siding, they often become outdated quickly, so choose siding combinations that will stand the test of time. For example, wood, fieldstone, and brick work well in a traditional craftsman-style house.
Choose materials with contrasting colors. Use the primary siding color and add dimension with a material of a different color. Combine your dark siding with light-colored stone accents if you want it to pop. Additionally, instead of applying lap siding to the whole house, choose a different kind of material for the gables, such as shakes, for extra curb appeal.
Choose materials with coordinating colors. Choose an exterior material to use as a reference point for your color scheme. Your siding color should be a few shades darker or lighter than the stone or brick. If you want to create a more traditional look, use a darker color to ground your house visually.
Add a rustic touch. You can add a modern spin to a classic look with rustic touches. For example, bright white and farmhouse siding expresses modernity, but adding a rustic touch, such as natural wood columns, will create a hint of history while maintaining a modern flair.
Use stone siding. Using stone is common in classic homes and works well in contemporary designs, as it's versatile and available in various textures, shapes, and shades. Choose a neutral, cool, or warm palette to complement the stone color for a balanced look when picking a siding color.
Experiment with different textures. Work with multiple styles and textures to emphasize part of the siding, break visual monotony, or create a focal point. For example, you can use cedar-texture shakes to mimic real cedar without maintenance. Put it on the entire house, or use it decoratively to create an exciting texture contrast.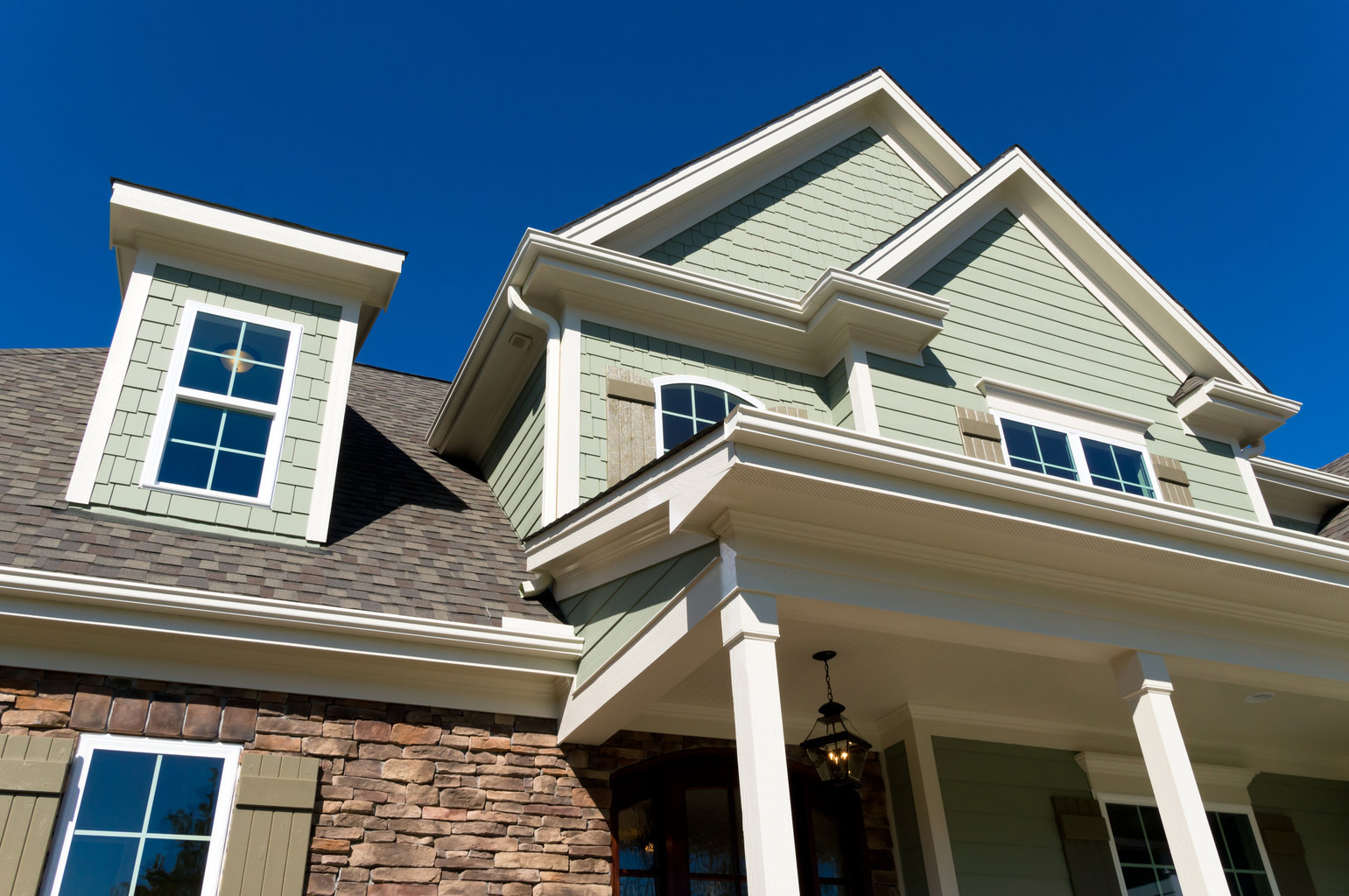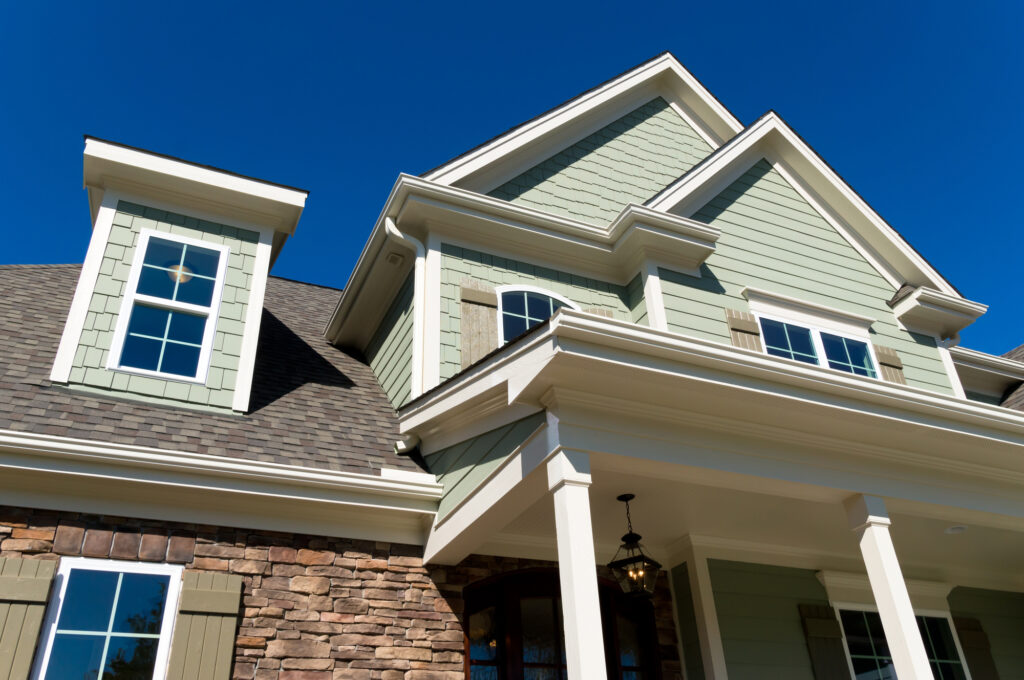 4. Add Visual Interest to Your Sliding With Multiple Looks
Sometimes, using different types of textures or colors is not enough to improve the appearance of your siding. You must add more visual effects to the siding for a more dynamic appearance. Below are some ideas for adding visual interest to your siding:
Change the direction of the panels. You can add visual height using traditional lap siding on the lower section and board and batten siding for the upper part. You can also use horizontal siding on the first story and vertical panels on the second.
Switch up the sides. Have different types of siding for the front and the sides. You can also add architectural panels to keep the siding from looking plain, as they also add interest by breaking up the extended lines created by the horizontal lap siding.
Use decorative shingles. Half-round edge cedar shingles can add a unique visual effect to your siding, especially if you place them on prominent architectural features.
Use mixed siding for mixed buildings. You can mix and match board and batten siding with shingles in one color for a property with several buildings close together. The combination will emphasize the architecture and create a coordinated look with the surroundings.
Draw the eye upward. If you want to make a statement, switch the siding midway up the walls. For example, you can use lap siding on the bottom half of the wall and decorative shingles on the upper half, but all in the same color.
Make use of mixed siding sizes. In addition to color and trim, different sizes of siding panels will create a stylish, subtle appearance. Use a standard size of siding on the lower part and switch to a thinner size for the upper portion to create more visual interest.
Create a geometric contrast. Be bold and consider taking on unusual angles. To create contrast and add visual appeal, use board and batten siding and architectural panels to add lines that move in different directions. You can also mix wide vertical panels with thin horizontal panels.
5. Use Windows for More Than Just Natural Lighting
Windows are a great starting point when seeking to give your siding a fresh look. If you want to sell your house eventually, having the perfect windows adds more interest and appeal to your overall look.
Here's how you can enhance your siding's aesthetic appeal using windows:
Complement your home's architectural style. Your windows are among the first things people will notice when they look at your house, so it's essential that they fit your overall aesthetic. If you have a historic house, arched windows make sense and would be a suitable option.
Go for contrasting colors. While neutrals are generally the safer and more popular options for your window frames and sidings, you may want to consider contrasting colors for a more visual impact.
Check the window size. When the windows are too small, they detract from the overall appearance of your home. You can inlay architectural panels in a deeper contrasting color to make your windows appear visually larger.
Match the windows. The windows' placement, shape, and size are part of your home's decorative features. You can add trim and architectural panels to mimic the shape and look of windows in areas with none. The illusion will fool the eye and create additional interest and style.
Upgrade the exterior window trim. While the external trims of your windows usually protect them from outside elements, you can choose a style that can add character to your home.
Choose the right frames. Choose window frames that align with your home's architectural style, and opt for shapes, proportions, and grill designs that match your personal taste. You can also paint the edges in shades and hues that lend color to the house's exterior.
Final Thoughts
There are a wide variety of colors, materials, and designs to fit any home's architectural features. Whether you use traditional lap siding, shingles, or a cedar look, there are many ways you can do to make your siding look better. Ultimately, your siding should be a beautiful representation of your style.
Sources
Renewal by Andersen: 4 Easy Way to Match Siding Color and Window Trim
Giovanni Valle is an architect, designer, internet entrepreneur, and the managing editor of various digital publications including BuilderSpace, Your Own Architect, and Interiors Place. He is the founder of BuilderSpace LLC.